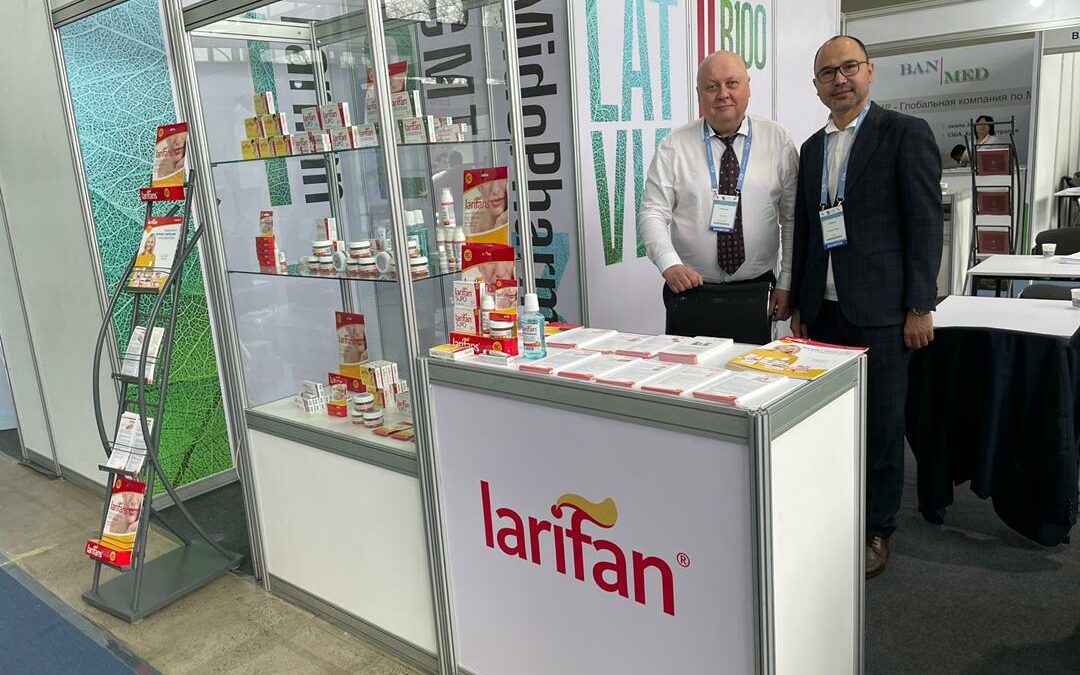 Looking back at 2022 | Larifan
In 2022, Larifan actively participated in global pharmaceutical exhibitions, strengthened relations with cooperation partners and promoted the recognition of the company.
Tashkent, Uzbekistan
12.04.2022 – 14.04.2022
Larifans participated in the Latvian national stand at the exhibition "Tashkent International Healthcare Exhibition – TIHE 2022", from April 12 to 14, 2022 in Tashkent, Uzbekistan.
The following sub-sectors are represented at the exhibition: medical equipment, equipment, laboratory, stomatology equipment and technologies, medicines and medical goods, equipment for the pharmaceutical industry. A large part of cosmetics in Uzbekistan is sold through pharmacies, so we also invite companies in the cosmetics industry whose products could potentially be distributed in pharmacies to apply. In 2021, the exhibition was visited by 4.5 thousand. specialists from 6 countries, as well as more than 100 companies from 9 countries participated.
Samarkand, Uzbekistan
01.06.2022 – 03.06.2022
MEDPROPHARM EXPO 2022 
In Samarkand, Larifan Ltd., together with 2 other Latvian companies, participated in the international pharmaceutical exhibition.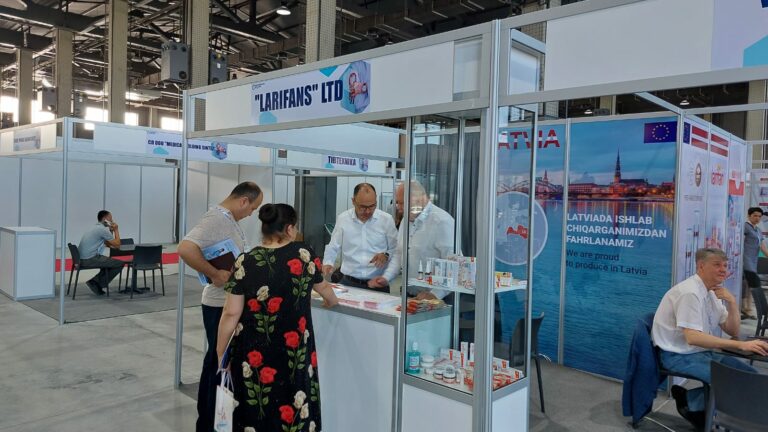 Singapore
31.08.2022 – 02.09.2022
SIA Larifāns participated in the Latvian national stand at the exhibition "Medical Fair Asia (MFA) 2022", which took place from August 31 to September 2 in Singapore.
At the MEDICAL FAIR ASIA (MFA) exhibition, it was a great opportunity to get to know Latvian companies operating in the medical and related industries, including in the production of medical and laboratory devices and equipment, medicines, nutritional supplements, medical products and medical cosmetics, as well as in the development of IT systems and solutions. Including also SIA Larifāns.
The exhibition MEDICAL FAIR ASIA (MFA) is an important international exhibition of the medical industry in the Southeast Asian region, attended by professionals from Singapore, Malaysia, the Philippines, Thailand, Vietnam and other countries.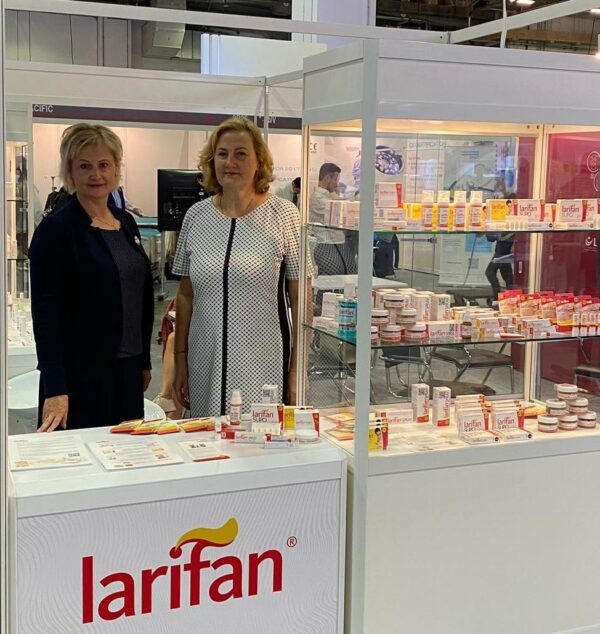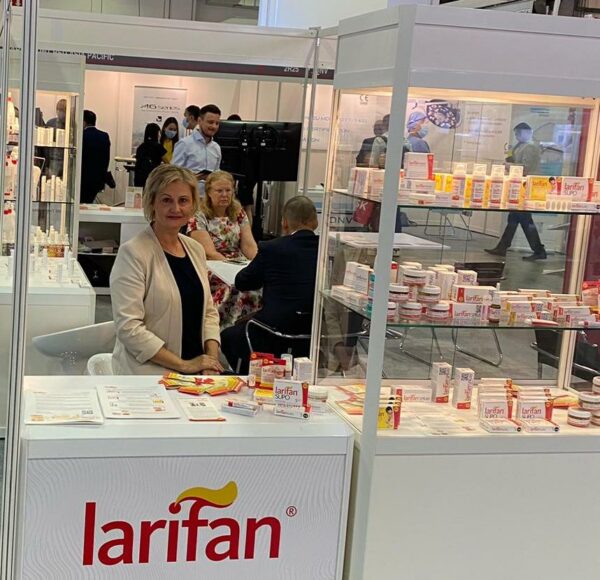 Kyrgyzstan
29.10.2022 – 03.11.2022
The purpose of the assignment was to learn a new sales market for the immunomodulator and antiviral drug LARIFAN. In Bishkek, we met with IMEX Ltd., a company that owns many pharmacies and produces pharmaceutical products and medicines. IMEX Ltd. participated in the joint negotiations. owner and general director Mr. Nasirdin Sadirbayev and IMEX Ltd. Chief Pharmacist Mrs. Nazgul Eje. We visited the company's production plant and warehouses together.
IMEX Ltd showed great interest in LARIFAN products and is currently actively working on registering LARIFAN products in Kyrgyzstan and entering the local market. Possibilities are also being considered to start the production of LARIFAN products in Kyrgyzstan.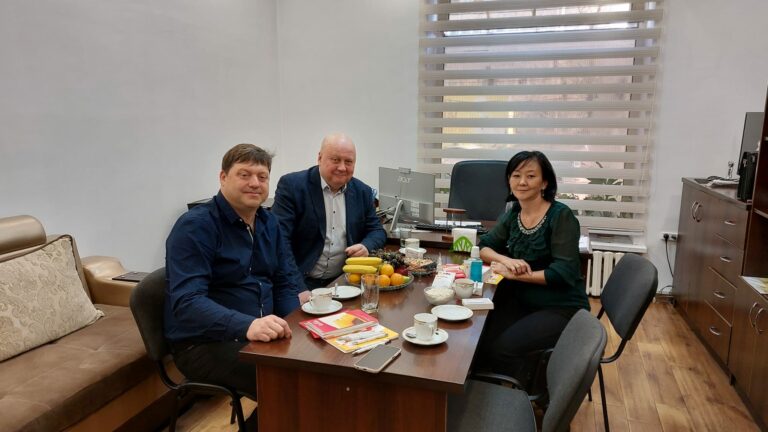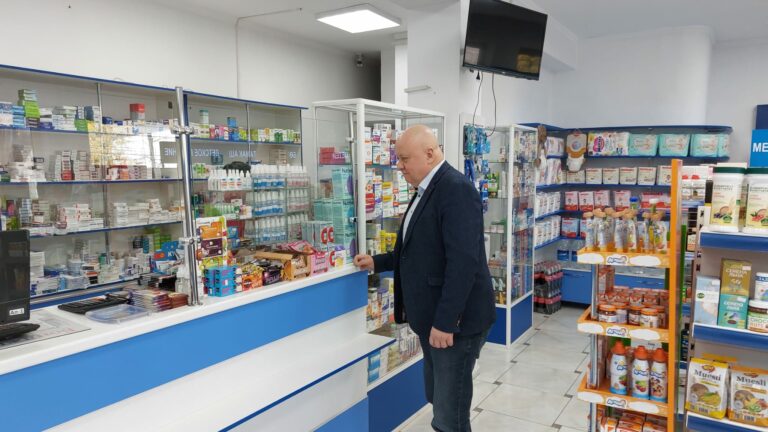 Tbilisi, Georgia
13.12.2022 – 17.12.2022
In Tbilisi, we met with the director of the Larifan Caucasus company, David Khachapuridze, and also with the rest of the Larifan Caucasus team. During the meeting, the results of the 2022 Larifan development and implementation in Georgia were discussed. It was discussed how to further increase the spread of Larifan production in Georgia. The strategy of introducing new Larifan products in Georgia was also discussed.
SIA Larifāns together with Larifan Caucasus Ltd is building a new production plant in Tbilisi, where Larifans preparations will be produced. We also visited one of the largest pharmaceutical companies in Georgia – Aversija.